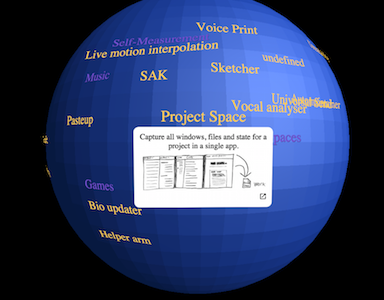 A project I've been meaning to do for ages and finally got around to today is the Idea Globe. I really like coming up with and working on ideas, but up until now I haven't had a good place to put all of them. I keep a notebook, of course, but it's full of all sorts of other things as well, and the linear structure isn't great for quickly looking through ideas when I want to work on something.
I figured a fun way to approach the problem would be to make a big Earth-like globe where all the ideas are just sort of floating around in no particular order. I added topics as well so I can associate different things I've been thinking about when I want to come up with a new idea. You can pin an idea or a topic by clicking on it, and then it stays put while the others keep revolving. The ideas also display a brief description and sometimes a sketch when they're selected.
There's still a bit of work to do: mainly it's a bit too crowded at the moment. I think I might need to only display a random subset of ideas at time, and probably do some random-looking-but-not-really-random spacing so that the different ideas don't run into each other.
It's great to have a place to throw up all my random thoughts that aren't even at the point where I'd write a post about them. I encourage you to go have a play around and check out some half-baked ideas. However, you won't see the idea for the Idea Globe in there. As of today, it's graduated!